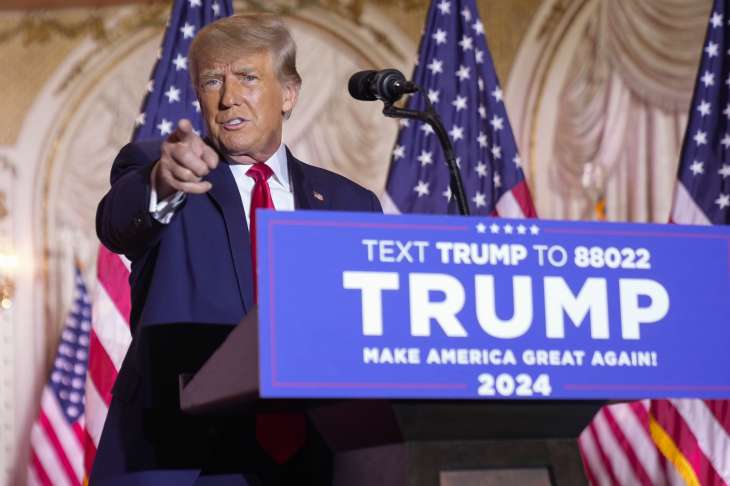 Trump's presidential poll campaign: Former President Donald Trump is set to kick off his 2024 White House bid on Saturday with visits to a pair of early-voting states, his first campaign events since launching his bid more than two months ago. Trump will be the keynote speaker at the New Hampshire GOP's annual meeting before travelling to Columbia, South Carolina, where he is set to unveil his leadership team at the Statehouse. The states hold two of the party's first three nominating contests, giving them enormous power in selecting its nominee.
Trump and his allies hope the events will offer a show of force behind the former president after a sluggish start to his campaign that left many questioning his commitment to running again. In recent weeks, his backers have been reaching out to political operatives and elected officials to secure support for Trump's reelection at a critical juncture when other Republicans are preparing their own expected challenges.
"The gun is fired, and the campaign season has started," said Stephen Stepanek, chair of the New Hampshire Republican Party and the co-chair of Trump's 2016 campaign in the state. While Trump remains the only declared 2024 presidential candidate, a host of potential challengers, including Florida Gov. Ron DeSantis, former Vice President Mike Pence and former South Carolina Gov. Nikki Haley, who served as Trump's ambassador to the United Nations, are widely expected to launch campaigns in the coming months.
In South Carolina, Gov. Henry McMaster, U.S. Sen. Lindsey Graham and several members of the state's congressional delegation plan to attend Saturday's event. But Trump's team has struggled to line up support from state lawmakers, even some who eagerly backed him during previous runs. Some have said that more than a year out from primary balloting is too early to make endorsements or that they're waiting to see who else enters the race. Others have said it is time for the party to move past Trump to a new generation of leadership.
Mixed reactions
Republican state Rep. RJ May, vice chair of South Carolina's state House Freedom Caucus, said he wasn't going to attend Trump's event because he was focused on the Freedom Caucus' legislative fight with the GOP caucus. He indicated that he was open to other GOP candidates in the 2024 race.
"I think we're going to have a very strong slate of candidates in South Carolina," said May, who voted for Trump in 2016 and 2020. He added, "I would 100% take a Donald Trump over Joe Biden." Dave Wilson, president of conservative Christian nonprofit Palmetto Family, said some conservative voters may have concerns over Trump's recent comments that Republicans who opposed abortion without exceptions had cost the party critical wins in the 2022 midterm elections.
"It gives pause to some folks within…


Read More: US: Donald Trump set to kick off his 2024 White House bid today amid series of